Blast Chiller Freezers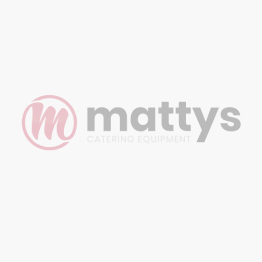 Blast Chiller Freezers
Blast Chiller Freezers
Are you searching for the blast chiller freezers? Stop your search here and rely on Mattys Catering Equipment, we offer an extensive range of blast chiller freezers at affordable prices. Our blast chiller freezers are an excellent choice for pubs, airlines, schools and many other places. The best thing about these freezers is that you can conveniently store the drinks, beverages, and foods.
Moreover, blast chillers can also be used in hospitals to store medicines. No matter which business you are running, blast chillers are perfect for fulfilling your demands and requirements. You can freeze your food items sharply with our blast chiller freezers.
Specifications of Our Blast Chiller Freezers
Quality: Made up of high-quality material.
Brands: Available brands are Bromic and F.E.D.
Usage: Ideal for pubs, airlines, schools, and even hospitals to store food items or medicines at an appropriate temperature.
Check out our wide collection of blast chiller freezers to choose a perfect one that can fulfill your needs and requirements. These appliances are ideal for maintaining the taste and quality of food items at the appropriate temperature. Moreover, to keep the taste and freshness, our blast chiller freezers are the best options that you can choose. The most significant feature of our blast chiller freezers is they protect foods from harmful germs and bacteria.
If you are looking for a freezer that can maintain the natural taste of foodstuff, no other option would be suitable than our blast chiller freezers. They are the best to store food items in cafes and restaurants. Overall, these refrigerators are the best to maintain the taste of cold drinks, ice creams, and other beverages.
Other Benefits of Blast Chiller Freezers
There are various useful benefits of blast chiller freezers. Blast chillers are an excellent choice to make ice creams and sorbets. These chiller freezers are the best to cool a large volume of beverages within a small period. These freezers can also avoid further growth of microorganisms and maintain the natural taste. Our blast chiller freezers are the latest and trendy that can enhance the beauty of your kitchen or shop also.
Which Businesses Needs Blast Chillers?
The businesses that provide food safety services need blast chiller freezers for their business, including confectionaries, cafes, restaurants, hotels, etc. You cannot run your food services business without a suitable blast chiller freezer. Now, keep your food free from microorganisms and maintain their taste as it is with our freezers.
These chillers help you to boost your productivity and increase sales because it maintains the natural taste of food ingredients.
Can We Find Blast Chiller Freezers Online?
No doubt that you can get these blast chiller freezers online as well as offline. We at Mattys Catering Equipment, offer an extensive range of blast chiller freezers online at affordable prices and with fast delivery options. If you want to purchase a blast chiller freezer, explore our online store and choose a perfect one that is suitable for your needs and requirements. We know what the expectation of a customer is, and we try our best to fulfill their demands.