Coffee Grinders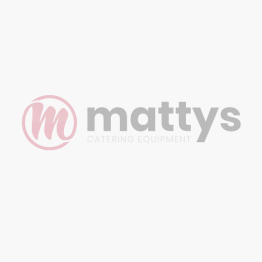 Manual & Automatic Coffee Grinder
Manual & Automatic Coffee Grinder
Whether you're preparing coffee for selling or serving it in your coffee shop, your grinder is going to decide the quality of service that you are providing. If you are working in restaurants, hotels, or cafes, then no other option than coffee grinders will be suitable. With a perfect coffee grinder, you can complete your job on time or before time and can handle the large customers more efficiently.
Here at Mattys Catering Equipment, we offer a large variety of manual and automatic coffee grinders at affordable prices. Explore our products and choose the one that is perfect for your needs and workplace!
Specifications of the product:
Quality: made up of highly graded material
Usage: an excellent choice for all types of cafes and coffee shops.
Brands: Eureka, Mazzer Coffee Grinders, and others.
For a successful coffee enterprise, a high-performing coffee grinder is crucial. Explore our store and choose the best coffee grinder for your coffee shop, café, or restaurant that can fulfill the demands of your customers. If you are opening a new cafe, please contact our cafe designers and see our range of commercial coffee machines.
There are various coffee grinders that you can choose from our online store, and all types operate differently at different speeds. So to earn more profit, you need to buy an appropriate coffee grinder that suits your business and work. Choosing the right coffee grinder means you should be aware of the facts and usage. Here are some of the things that you should look after while making purchases for a coffee grinder.
Things to consider while buying a coffee grinder
When you purchase a grinder, the first thing that you should consider is to check out the capacity of a grinder. Buy a grinder that can handle your work while serving customers, especially if you are running a cafe or coffee shop. Further coffee grinders are available in two types in the market: blade grinders and bur grinders.
The blade grinders are perfect for grinding a large number of coffee beans within a short period as they run faster and are less expensive than others. However, these are not perfect for getting an appropriate powder of coffee.
If you consider bur grinders, then these are the best for coffee shops as well home brewers. These grinders operate in two parts. To get a smooth powder, this type of coffee grinders is essential for all coffee shops and cafes.
Why are commercial coffee grinders essential for a coffee shop and café?
For coffee shops and cafes, a commercial coffee grinder is essential equipment. By purchasing or renting coffee grinders, you can save your time and labor cost. We at Mattys Catering Equipment also offer a wide range of commercial coffee grinders online. You can choose the right coffee grinder for your work and according to your choice.
Why should you prefer coffee grinders of Mattys Catering Equipment?
Mattys Catering Equipment offers coffee grinders of high quality online at affordable prices and with fast delivery options. Take a look at our cafe design and fit-out solutions & our wide range of commercial coffee machines in our online store and select the most suitable.